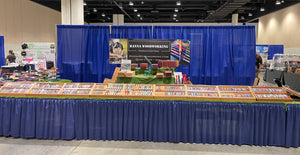 Welcome to Hanna Woodworking
2023 Hanna Woodworking Shows!
Where in the world is Hanna Woodworking this year??  Here is all the info!  Click the link on the show name to find more information.
April 15-16, 2023 Quad City Mighty Con Show - Davenport, Iowa
May 13-14, 2023 Beaux Arts Fair - Davenport, Iowa 
June 30-July 2, 2023 Sew Magical Expo - Nashville, Tennessee 
August 25-27, 2023 Sew Bagical - St. Louis, Missouri
September 21-24, 2023 Sew Magical Expo - Orlando, Florida
October 7-8, 2023 Galena Country Fair - Galena, Illinois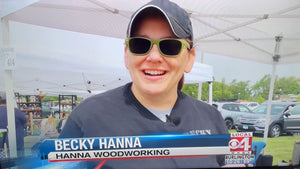 Hanna Woodworking in the News
Beaux Arts Fair May 2023 Davenport, Iowa
What are People Saying about Hanna Woodworking?
I've purchased three items from Hanna Woodworking in the last year; a set of tiny tree sculptures made from cedar, a set of coasters, and a cutting board constructed of Walnut and Cherry. Becky was wonderful to work with at every step of the process!

Diane from LeClaire, Iowa
I bought myself a pen and even got to watch her make it on Facebook live. I then ended up buying both my sons pens, too. Their craftsmanship is great. She has lots of options so you can get just the pen you want. 

Teresa from Dublin, Ohio
These are gorgeous and shipping was amazingly quick. There's no risking any damage in shipping with all the bubble wrap and packaging My kids found it hilarious to watch me unwrap the two. I hate using seam rippers but I am excited to have a couple pretty ones I can reach for now.

Melissa from Tuscon, Arizona